The Department of Energy Celebrates the Utilization of Small Businesses​
Chris and Steve recently represented Federal Contracts Corp alongside Caterpillar and Aspen Equipment at the 18th annual Department of Energy Small Business Forum & Expo in Pittsburgh. This years' expo seemed to be a very lively show with many of our partnered manufacturers and frequent government customers.
The event also included a few guest speakers including Paul Ross, the DOE Acquisition Specialist, James Campos the DOE Director of Office of Economic Impact and Diversity, and Keynote speaker Kaplan Mobray who brought a lot of energy to the show (Insert Department of Energy pun here).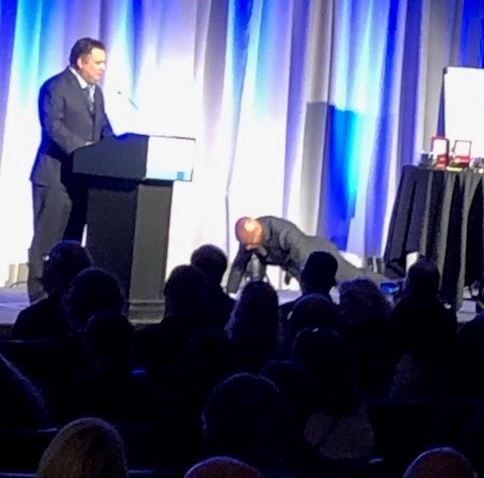 While presenting awards, Paul Ross mentioned how frequently the DOE agencies use small businesses. Some agencies had upwards of 50% or more of their yearly and quarterly budgets spent through small businesses! Paul Ross also announced many awards at the event, one of which was the Federal Small Business Achievement of the Year Award given to Southwestern Power Administration (SWPA). This is an award that is given to an agency of the DOE who spent a large portion of their 2018 budget through small business and consistently goes out of their way to purchase from small businesses. The Southwestern Power Administration is one of the many government agencies who uses Federal Contracts Corp to help them with their equipment purchasing needs.
The Southwestern Power Administration began as one of Federal Contracts Corp's many government customers and has built a great partnership with us. They have come to us to help them fulfill both their small business and equipment needs because they know that we will constantly go out of our way to help them with those needs.
SWPA and many other local government agencies do so many things to help the local community in the Tampa Bay Area and we are grateful to do business with all of them. It's great to see these agencies utilizing small businesses like Federal Contracts Corp because it not only helps the agencies meet their small business set-aside goals, but it helps families and individuals in the area prosper. Using small business creates more jobs, brings more money to local communities and helps to grow the small businesses and communities.
As a small business, we really enjoyed being able to attend the show and talk to our many regular customers who we've helped fulfill their small business set-aside goals! We would like to thank everyone for using Federal Contracts Corp to help you meet your equipment procurement needs! See you there next year!